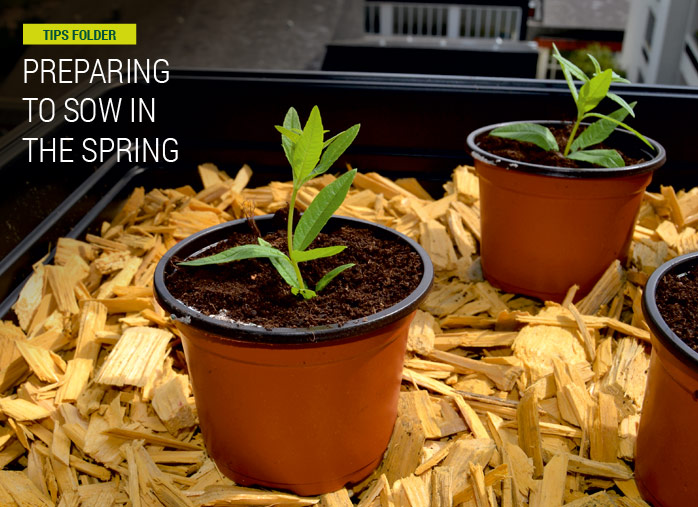 Sowing the seeds in a sheltered place outdoors
It is possible to sow some crops early (beetroot, carrots, celery, cabbages, lettuces, turnips,
nuts, peas, radishes, tomatoes, etc), as long as you choose varieties suitable for early
cultivation and protect them in a cold frame or polytunnel. During the day, the plastic or glass
covering concentrates the sun's rays, significantly increasing the internal temperature. This
facilitates the plants' growth and will gain you approximately 2 weeks with the hardiest
vegetables.

- A cold frame is the traditional system. It comprises a box (wood, metal or brick) covered
with a transparent lid (plastic or glass) that can be easily lifted (to aerate and water the
plants). The frame does not have a base and is placed directly on the ground; sow your
seeds directly onto a thick layer of compost, or in trays that are then placed inside the frame.
What can you sow? Lettuces, radishes, leeks, cauliflowers and more hardy vegetables will
thrive here. Flowers and tomatoes can also be placed inside a cold frame but only during the
day and in good weather.
Top tip: if there is a risk of frost at night, protect your seedlings by covering the frame with a
roll of rice straw.

- Cloche tunnels give an excellent quality of light and protect seeds and young plants from
the cold. They are not an absolute guarantee against the cold but offer good protection
against draughts and the damp.
They are easy to use as they can quickly be placed over seeds in the ground if it turns cold
during the day or the night. Remember that in such climatic conditions, vegetable plants can
be stressed and may struggle to germinate or propagate. Cloche tunnels are very practical to
set up and easy to take down and it is easy to aerate your plants by lifting the plastic film on
one side, discouraging rot and possible "heatstroke" on sunny days in February.
- With taller plants, such as maize, use perforated plastic film as protection (Climair Film
laid flat). This acts like a propagator during the early weeks of sprouting and plants are
protected from frost, will grow on early, and come through the plastic film to grow upwards.
Top tip: this technique is widespread in market gardening because it protects seeds, speeds
up growth and means you can harvest vegetables earlier. It involves spreading a sheet of
nonwoven fleece on the ground over the seeds to encourage germination and growth. The
cover also acts as protection against insects and heavy rain.
All you need to do now is start sowing and then wait patiently a while to enjoy your kitchen
garden in the sun.